Downtown Miami is a bustling hub of entertainment, culture, and stunning attractions that should not be missed on your next visit to South Florida. With its lively shopping centers like Bayside Marketplace, iconic landmarks such as the Freedom Tower at Miami Dade College, rich history museums, and enticing culinary scene - there's never a dull moment in this vibrant area.
From art galleries to rooftop bars boasting impressive city views and exciting outdoor activities along Biscayne Bay, there's truly something for every traveler in Downtown Miami.
Key Takeaways
• Downtown Miami offers a wide range of entertainment options, from iconic attractions like the Freedom Tower and Pérez Art Museum Miami to outdoor activities along Biscayne Bay.

• Visitors can experience South Florida's cultural scene by catching a show at the Adrienne Arsht Center for the Performing Arts or attending ballet and opera performances at the Miami City Ballet and Florida Grand Opera.

• The Skyviews Miami Observation Wheel is an exciting way to see panoramic views of Downtown Miami, while taking a stroll on the scenic Miami Riverwalk is perfect for outdoor enthusiasts.

• FTX Arena hosts some of the largest events in South Florida ranging from music concerts to sports games featuring NBA teams like the Miami Heat.

Iconic Attractions In Downtown Miami
Visit Bayfront Park for stunning views of Biscayne Bay. Explore the iconic Freedom Tower. Immerse yourself in science and technology at the Frost Science Museum. Enjoy art at the Pérez Art Museum Miami.
Catch a show at the Adrienne Arsht Center for the Performing Arts. See the city from above on the Skyviews Miami Observation Wheel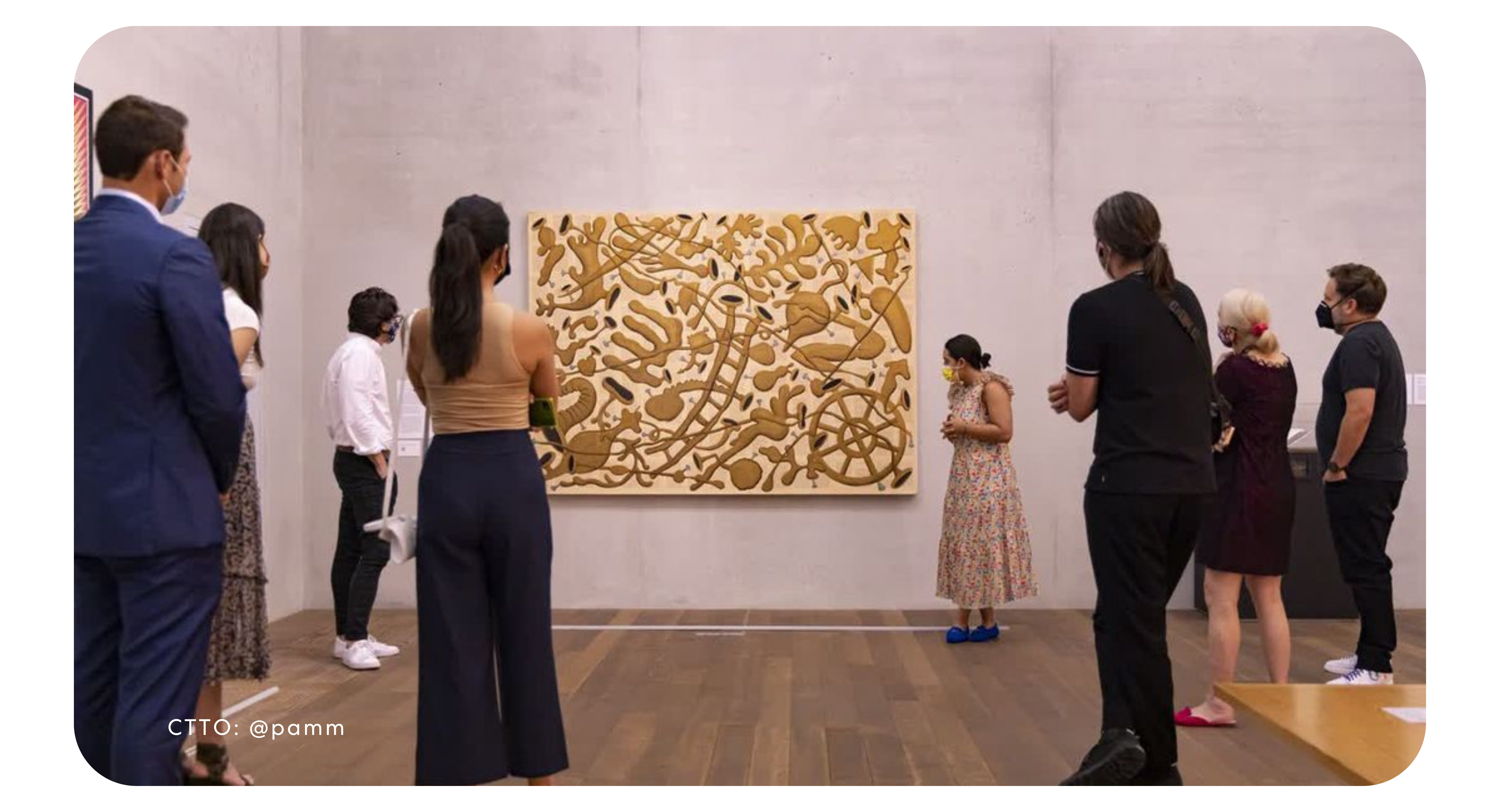 Visit Bayfront Park For Stunning Views Of Biscayne Bay
Visiting Bayfront Park is a must-do for tourists seeking stunning views and a taste of Miami's vibrant atmosphere. Located in the heart of Downtown Miami, this 32-acre urban oasis offers unparalleled vistas of Biscayne Bay, along with iconic attractions such as the Torch of Friendship and the Bayfront Park Amphitheater.
Bayfront Park is not only about breathtaking views; it also offers numerous outdoor activities for everyone to enjoy. Relax on its sandy beach area while soaking in the sun or rent a bike to explore various trails and paths throughout the park.
Foodies can indulge in local fare at Largo Bar & Grill or check out other dining options within walking distance at Bayfront Marketplace.

Explore The Iconic Freedom Tower
A must-see attraction in downtown Miami, the iconic Freedom Tower stands tall with its rich history and architectural beauty. Completed in 1925 using the Mediterranean Revival style, this tower once served as headquarters for the Miami Daily News and Metropolis.
Today, visitors can appreciate both its historical significance and stunning design while touring the Museum of Art and Design housed within. The museum showcases an impressive collection of contemporary and modern art exhibitions that will captivate any art enthusiast.
Just steps away from other key downtown attractions like Bayside Marketplace, Bayfront Park, Little Havana, Calle Ocho, and Adrienne Arsht Center for Performing Arts; Freedom Tower is conveniently accessible via Metromover – Miami's free public transportation system available to tourists exploring South Florida's bustling downtown skyline.

Immerse Yourself In Science And Technology At The Frost Science Museum
Immerse yourself in the exciting world of science and technology at the renowned Frost Science Museum, an iconic attraction located in Downtown Miami's beautiful Museum Park.
This state-of-the-art facility offers interactive exhibits on a wide range of topics including space exploration, the human body, and South Florida's rich biodiversity.
The striking glass facade of Frost Science Museum not only showcases unique architecture but also allows you to enjoy breathtaking views of Biscayne Bay as you explore educational exhibits.
The rooftop terrace serves as a popular spot for special events or simply relaxing after a day spent discovering fascinating scientific wonders. With various programs such as lectures, workshops, and summer camps available throughout the year, there are endless opportunities to learn something new during your visit to downtown Miami.

Enjoy Art At The Pérez Art Museum Miami
The Pérez Art Museum Miami is a premier destination for art lovers in Downtown Miami. The museum boasts an impressive collection of contemporary and modern art, with exhibits and galleries that explore various themes and styles.
Visitors can enjoy stunning panoramic views of Biscayne Bay from the museum's outdoor terrace while immersing themselves in thought-provoking works of art.
Admission to the Pérez Art Museum Miami is free for children under 6 years old and members of the military, while discounted admission is available for students, seniors, and Florida residents.
Access to the museum is hassle-free as it can be easily reached via Metromover – a free public transportation system within Downtown Miami. If you're feeling peckish after exploring the incredible artwork on display at PAMM Verde restaurant offers mouth-watering seasonal dishes using locally sourced ingredients that'll be sure to satisfy your appetite.

Catch A Show At The Adrienne Arsht Center For The Performing Arts
The Adrienne Arsht Center for the Performing Arts is a must-visit cultural attraction in Downtown Miami. The center offers a diverse range of shows and performances, including theater productions, musicals, and concerts.
It has hosted world-class acts such as Hamilton and The Lion King. Visitors can catch a show at this iconic venue and then explore nearby attractions like Bayside Marketplace or Bayfront Park for a full day of entertainment.
With its excellent staff and service, the Adrienne Arsht Center promises visitors an unforgettable experience. Plus, it's easily accessible via public transportation like the Metromover - making it a popular destination for both tourists and locals alike.

See The City From Above On The Skyviews Miami Observation Wheel
One of the best ways to see Downtown Miami in all its glory is by taking a ride on the Skyviews Miami Observation Wheel. This stunning attraction, located at Bayside Marketplace, offers visitors an unforgettable panoramic view of the city and nearby Biscayne Bay.
As you ascend 200 feet above ground level, you'll be treated to breathtaking views of the Downtown Miami skyline, including iconic landmarks like Freedom Tower and Pérez Art Museum Miami.
The observation wheel is located in one of the most popular outdoor malls in Downtown Miami - Bayside Marketplace, which also features various entertainment venues, shops, and restaurants.

Take A Stroll On The Miami Riverwalk
One of the most scenic walking paths in Miami is the Miami Riverwalk. This paved path runs alongside the Miami River, offering stunning views of both the water and downtown skyline.
The best part? It doesn't cost a penny to enjoy this beautiful stroll! Visitors can access the Riverwalk via Metromover or by parking nearby. As you take in the views, consider taking a break at Bayfront Park or Bayside Marketplace for some shopping and dining options.
If you're an outdoor enthusiast, bring your running shoes or bike and hit up the adjacent Miami River Greenway - an extension that offers even more scenic sights along its path down towards Brickell City Centre.


Cultural And Entertainment Venues
Attend a game or concert at the FTX Arena, enjoy ballet and opera performances at the Miami City Ballet, and catch world-class shows at the Florida Grand Opera.

Attend A Game Or Concert At The FTX Arena
A visit to downtown Miami wouldn't be complete without attending a game or concert at the FTX Arena. This cultural and entertainment venue has hosted some of the largest events in South Florida, ranging from music concerts to sports games featuring NBA teams like the Miami Heat.
With a seating capacity of over 20,000 people, this state-of-the-art stadium offers an electric atmosphere that can't be beaten. It's easy to get there too since it's conveniently located near other popular attractions such as Bayside Marketplace and Bayfront Park.

Enjoy Ballet And Opera Performances At The Miami City Ballet
For culture lovers, the Miami City Ballet is a must-see attraction in downtown Miami. This award-winning company hosts world-class performances throughout the year, showcasing timeless classics and modern ballet pieces alike.
The Knight Concert Hall at the Adrienne Arsht Center for the Performing Arts is home to this dance institution, providing an elegant backdrop for these graceful performers.
In addition to ballet performances, the Adrienne Arsht Center for the Performing Arts also offers opera shows presented by Florida Grand Opera. With high-quality productions featuring talented singers and musicians from around the world, it's no wonder that this venue is beloved by locals and tourists alike.
From classic compositions like Mozart's Don Giovanni to contemporary works like Soldier Songs by David T Little, there's something for every taste on their packed schedule of events.

Catch World-class Performances At The Florida Grand Opera
For those seeking a night of elegance and culture, the Florida Grand Opera is a must-see destination in Downtown Miami. With productions ranging from classic operas to contemporary works, visitors can expect to be blown away by world-class performances that showcase exceptional vocal talent and stunning stage design.
The opera's home at the Adrienne Arsht Center for the Performing Arts provides an unforgettable setting for guests, with its sleek modern architecture and state-of-the-art sound system.
In addition to live performances, the opera offers educational programs including backstage tours and pre-show lectures that give audiences a deeper understanding of each production.
And as one of just two major American companies dedicated solely to producing grand opera, the Florida Grand Opera has garnered widespread critical acclaim throughout its 79-year history.


Shopping And Dining
Shop 'til you drop at the Miami Design District, featuring multiple open-air malls with high-end stores and trendy boutiques.

Shop At The Open-air Malls In The Miami Design District
The Miami Design District is a shopper's paradise. This trendy district offers open-air malls that are perfect for shopping and dining experiences. Filled with upscale boutiques, art galleries, and high-end restaurants, the Miami Design District has become one of the most popular destinations in Downtown Miami.
Some of the best places to shop in the district include Bvlgari, Louis Vuitton, Christian Louboutin, Celine, and more. The area is also home to some of Miami's top-rated restaurants such as La Mar by Gastón Acurio and Mandolin Aegean Bistro.

Satisfy Your Taste Buds With Local Cuisine At Downtown Miami Restaurants
Downtown Miami is a food lover's paradise, offering an array of dining options from local cuisines to upscale restaurants. Bayside Marketplace features almost 30 restaurants, including Hard Rock Cafe and Bubba Gump Shrimp Co., where visitors can enjoy waterfront views while indulging in mouth-watering dishes.
At Brickell City Centre, you can find fine eateries like Fi'lia and Quinto La Huella that offer delectable food made with fresh ingredients. For those seeking authentic Cuban cuisine, Little Havana is the perfect neighborhood to try out some of Miami's best Cuban sandwiches and pastelitos at places like Versailles Restaurant and El Pub Restaurant.

Check Out The Shops And Eateries At The Downtown Miami Mall
The Downtown Miami Mall is a must-visit destination for anyone looking to indulge in some retail therapy or enjoy delicious cuisine. With over 50 shops and nearly 30 restaurants, this open-air mall offers various tourist attractions like boat tours and the American Airlines Arena.
The mix of high-end boutiques, vendors, and restaurant chains makes it easy to find something that's within your budget. Visitors can explore upscale shopping options at Brickell City Centre or enjoy an array of dining options at Mary Brickell Village where they can sample fine eateries.


Outdoor Activities
Experience the beauty of Biscayne Bay by kayaking or paddleboarding, enjoy a leisurely walk, jog, or bike ride along the Miami River Greenway, soak up some rays and hit the beach at Miami Beach, or simply relax and admire stunning city and water views at Bayfront Park.

Kayak Or Paddleboard In The Biscayne Bay
For an unforgettable outdoor adventure, be sure to take advantage of the crystal-clear waters of Biscayne Bay by kayaking or paddleboarding. With stunning views of Downtown Miami's skyline and the vast ocean expanse, this is truly a unique way to experience Miami.
Visitors can rent equipment from several local outfitters and explore the bay at their own pace or join a guided tour that provides insight into the area's history and ecology.
Keep your eyes peeled for dolphins, manatees, and other fascinating wildlife as you glide along the waterways.

Walk, Jog, Or Bike The Miami River Greenway
For visitors looking for a breath of fresh air and a chance to get some exercise, the Miami River Greenway offers an excellent opportunity to explore Downtown Miami's urban landscape.
The 5.4-mile paved trail features scenic views of the river and city skyline, as well as sports courts, gardens, and cultural programming areas. The path connects with other popular attractions like Mary Brickell Village and Bayside Marketplace, making it easy to integrate into your itinerary.
Whether you're walking, jogging or biking along the route, be sure to pack water and sunscreen since Miami's temperatures can soar in any season. Along the way don't miss Garcia's Seafood Grille and Fish Market for delicious seafood dishes paired with stunning views of the river.

Hit The Beach At Miami Beach
If you're looking to soak up some sun, Miami Beach is the perfect place to do just that. Located just a short drive from downtown Miami, this stunning beach boasts crystal-clear waters and soft sand perfect for long strolls or lounging in the sun.
You can rent an umbrella and chair to relax under while you take in the beautiful views of the Atlantic Ocean.
However, it's important to note that while many people flock to Miami Beach for its lively atmosphere and party scene, it may not be suitable for all visitors due to crowds and noise levels.
If you prefer a more peaceful experience, there are several quieter beaches nearby where you can still enjoy Florida's gorgeous coastline without all the hustle and bustle.

Relax At Bayfront Park With Stunning City And Water Views
When in downtown Miami, visitors should not miss the chance to relax and take in the stunning views at Bayfront Park. This beautiful waterfront park offers breathtaking views of Biscayne Bay and a great escape from the hustle and bustle of city life.
Apart from its natural beauty, Bayfront Park is located adjacent to Bayside Marketplace - a popular outdoor shopping center offering boat tours and other water activities.
Bayfront Park also features several landmark attractions including Torch of Friendship and Pepper Fountain which offer excellent photo opportunities with iconic Miami landmarks such as PortMiami and American Airlines Arena visible from different angles across the park's expanse.


Nearby Attractions
Experience authentic Cuban culture in Little Havana with its colorful streets and delicious food. Want more outdoor adventures? Take a trip to Key Biscayne or visit the Everglades National Park for nature and wildlife.
Or, explore the historic and vibrant South Beach just a short drive away from downtown Miami.

Experience Authentic Cuban Culture In Little Havana
No visit to downtown Miami would be complete without experiencing Little Havana. This vibrant neighborhood is full of Cuban influence, with a range of shops, restaurants, and cultural attractions.
Visitors can explore Calle Ocho, known for its historic landmarks like the Tower Theater and Bay of Pigs Museum.
But it's not just about sightseeing - visitors should also indulge in authentic Cuban food while here. Versailles Restaurant is a must-visit spot for traditional dishes like ropa vieja (shredded beef), plantains, and pastelitos (pastries).
El Cristo is another popular eatery serving up delicious coffee and empanadas to locals since 1972.

Explore The Historic And Vibrant South Beach
South Beach is a must-visit destination for anyone in downtown Miami. The iconic neighborhood is known for its colorful Art Deco architecture, white-sand beaches, and lively nightlife.
Visitors can take a stroll along Ocean Drive and admire the pastel-hued buildings that have made South Beach famous.
In addition to taking in the cultural attractions, visitors can enjoy outdoor activities like paddleboarding or lounging on the beach. And when the sun sets, South Beach comes alive with restaurants offering everything from rooftop dining to al fresco bistros to famous nightclubs like LIV at Fontainebleau and Club Story.

Take A Trip To Key Biscayne For Outdoor Adventures
Just a short drive away from downtown Miami, Key Biscayne offers a variety of outdoor activities for nature enthusiasts and beachgoers. Visitors can take in breathtaking views while hiking or biking the various trails at Bill Baggs Cape Florida State Park, which also features a historic lighthouse.
The park's beaches are perfect for swimming, sunbathing or enjoying water sports like kayaking and paddleboarding. For those interested in marine life, the Miami Seaquarium is a must-visit attraction with exhibits and shows featuring dolphins, sea lions, and manatees.

Visit The Everglades National Park For Nature And Wildlife
For nature and wildlife enthusiasts, a visit to the Everglades National Park is a must while staying in Downtown Miami. This UNESCO World Heritage site offers an abundance of outdoor activities such as hiking, biking, and wildlife viewing.
Visitors can take guided tours of the park, including airboat and boat tours for up-close encounters with alligators, panthers, birds, fish — just to name a few! The Big Cypress National Preserve that surrounds the park also offers swamp tours and hiking trails.
With educational programs for visitors of all ages and nearby attractions like Miami Metrozoo and Shark Valley available too - there's no shortage of adventure at Everglades National Park.



Nightlife Scene
Dance the night away at E11even Miami or Story Nightclub, sip on cocktails with stunning city views at a rooftop bar, or enjoy live music and intimate shows at The Electric Pickle.

Dance The Night Away At The Famous E11even Miami Or Story Nightclub
Experience the excitement of Miami's nightlife scene and dance the night away at E11even Miami or Story Nightclub. Both venues attract a diverse crowd of locals and tourists, offering high-end music and an electrifying atmosphere.
E11even Miami is open 24/7 and features live performances, DJs, aerialists, VIP tables, and bottle service. Meanwhile, Story Nightclub boasts top DJs and strict door policy with a sleek modern design including a large dance floor.
Be sure to dress in your finest attire as Story has a dress code while E11even offers multiple levels including rooftop lounge with scenic views of downtown Miami's skyline.

Enjoy Live Music And Intimate Shows At The Electric Pickle
For a taste of Miami's vibrant nightlife scene, make sure to visit The Electric Pickle in Downtown Miami. This venue is known for its cozy and intimate atmosphere that draws both locals and visitors.
The eclectic decor gives it a vintage feel, making it an ideal spot for music lovers looking for something unique.
What sets The Electric Pickle apart is the laid-back and friendly vibe that welcomes everyone who walks through its doors. Its reputation as one of Downtown Miami's best nightlife spots is well-deserved thanks to its lively events that continue into the early hours of the morning.

Sip On Cocktails With Stunning City Views At A Rooftop Bar
Downtown Miami is home to some of the best rooftop bars in South Florida. If you're looking for a drink with a view, head to Sugar at Epic Hotel or Area 31 at EAST Miami hotel.
Both offer craft cocktails and stunning views of the downtown Miami skyline.
But if you prefer waterfront views, check out The Wharf, which offers drinks with beautiful water views in addition to a lively atmosphere. For happy hour specials, Mama Tried is a popular bar that attracts locals and tourists alike.
And if you're looking for something more refined, Lost Boy has an impressive palate menu that's sure to impress even the most discerning cocktail snob.
Conclusion
If you're planning a trip to South Florida, Downtown Miami is certainly not to be missed. With its incredible skyline, stunning waterfront views and exciting cultural scene, there's something for everyone.
Whether it's exploring iconic attractions like the Freedom Tower or Perez Art Museum Miami, shopping in open-air malls or catching a show at the Adrienne Arsht Center for the Performing Arts, Downtown Miami offers endless entertainment options.